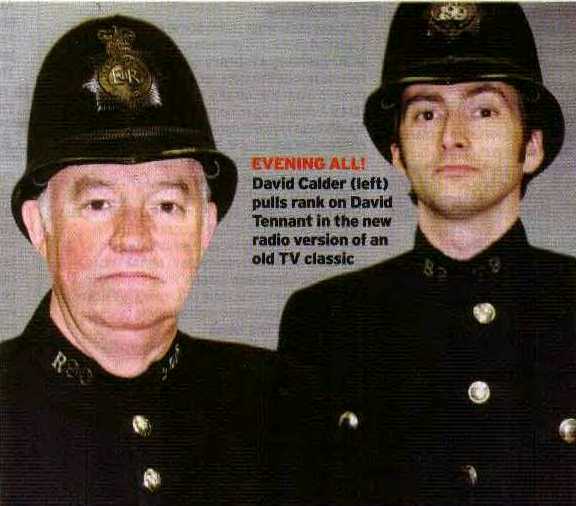 The experienced old copper gets a gung ho young partner, itching to bang up the bad guys. That was the premise for Lethal Weapon and it's explosive Mel Gibson/Danny Glover partnership. Curiously it's also the starting point of Dixon Of Dock Green. Yes, the police series that ran on BBC for 20 years from 1955 starts on the radio this week.
Dixon the bobby who knows the beat is played by familiar TV face David Calder, while is keen sidekick, fresh from Scotland, is voiced, by rising star David Tennant.
Between them they tackle crimes ranging from the theft of joke shop flowers and football rattles to the trafficking of "seedy photographs".
Tennant had a great reception as the BBC's 18th century Casanova, he will be the next Doctor Who, and he's currently shooting a big modern thriller for ITV. Yet he still found time to do Dixon on the radio.
"It's one of the great advantages of this job," he says "You get to tour the time zones."
Tennant has previously enjoyed working with the team behind Dixon when they revived Dr. Finlay's Casebook on radio. Although he was only five when Dixon ended he jumped at the chance to play his sidekick.
Working with Charlie Brooks, who played Janine Butcher in EastEnders, was "great fun" says Tennant.
"There's a fumbling love story there that has certain comedy elements. We didn't set out to find laughs, but if they're there you still play them."
David Calder, however, had his doubts when he heard about the revival. "It felt a bit like paint drying the first time," he says remembering the TV show, "but when I read it, it took me back to a younger age when I was in shorts playing on bombsites being chased by the local copper."
The radio play remains true to the original TV scripts. "It's very much based in 1956" says co-producer Viv Beeby.
"On the whole the crimes are fairly gentle," says Tennant. "It's missing bikes rather than Triad gangs."
Tennant's Crawford is frustrated by the pace of 1950's crime and desperate for action by episode three arrests someone for looking suspicious standing next to a bicycle. But "It's a bit racy towards the end" says Tennant. In the last potentially lethal episode a woman is taken hostage with a gun held to her head - which does sound a bit more like a Mel Gibson movie...